Welcome to the official Friends of SP 4449's website. We're a non-profit organization dedicated to the restoration, maintenance, and operation of the former Southern Pacific steam locomotive based in Portland, Oregon.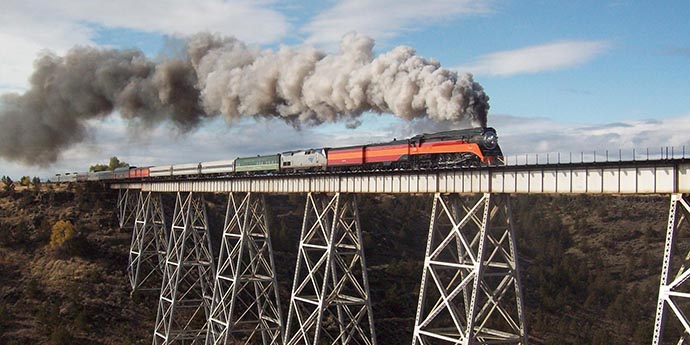 What's happening on the SP 4449?
***NEWS NEWS NEWS***
The Friends of the 4449 have been awarded a grant from the National Railway Historical Society.The funds will be used for the exterior restoration and painting of the GN-1 1928 era Steam Generator car.
Thank you National Railway Historical Society!!!
(For more information go to www.NRHS.com)
When can I ride behind the SP 4449?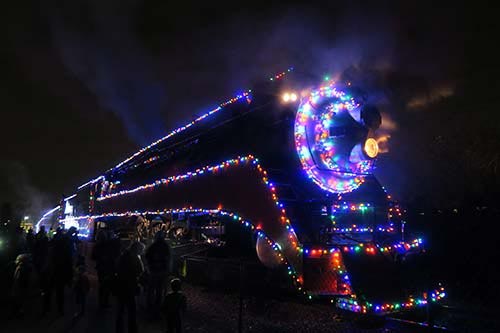 The SP4449 will not be pulling the Oregon Rail Heritage Foundation Holiday Express this year. The 2022 ORHF Holiday Express will instead be pulled by the Polson #2, a smaller 2-8-2 steam locomotive. Tickets are available through the ORHF website (orhf.org)
The SP4449 does not have any excursions scheduled at this time. When that changes it will be posted here.
Come see us!
Come see the SP 4449 at the Oregon Rail Heritage Center located at 2250 SE Water Ave, Portland, OR. For those taking transit, the MAX orange line passes right by the front gate. See MAX and Streetcar websites for more information.
Check the ORHF website for current hours. There is no charge to enter the facility, but your support at the donation box or concessions shop is much appreciated!
The Friends of SP4449 complies with applicable Federal civil rights laws and does not discriminate on the basis of race, color, national origin, age, disability, or sex. In compliance with Oregon's expanded protected classes, Friends of SP4449 does not exclude people or treat them differently because of race, color, national origin, age, disability, or sex pregnancy, gender identity, religion, limited English proficiency, marital status, or sexual orientation.
Friends of SP 4449 Inc. - P.O.Box #42486 - Portland, OR 97242