In 1973 the American Freedom Train Foundation sent representatives out across the country to identify steam locomotives that would be both restorable and suitable to pull a heavy 25-car exhibition train. Many locomotives had been under consideration -- N&W 4-8-4 #611 and a pair of NKP Berkshires were among those in the running. But at the end of the day it was Portland's former Southern Pacific #4449 that held the greatest promise.
A huge locomotive, she offered the necessary power to pull the train and being an oil burner she would be easier to service in the west. Her clean, streamlined lines made her an ideal match for the elegant red, white and blue train she would pull, and on December 14, 1974 she was pulled from Oaks Park in Portland for restoration at the Hoyt St. roundhouse.
A small staff and dozens of volunteers spent hundreds of hours restoring the 4449. On April 21, 1975 she moved under her own power for the first time in years and on May 9 made her first test run to Skamania and back with a light load. On May 12 she made her final test run to Wishram and back with an 1875-ton freight train -- the approximate weight of the American Freedom Train.
A dedication ceremony on May 16 was followed by a day of display at Portland Union Station on May 17. Finally, on June 20, 1975 #4449 left Portland for the journey to Chicago to meet the American Freedom Train. Heading south to Sacramento and then east through Denver and Omaha, the 4449 arrived at the General Motors EMD facility in La Grange, IL on July 2.
On July 27 the American Freedom Train arrived in Chicago from Springfield and on August 4 in a ceremony at Proviso yards, the 4449 took over duty on the train she was meant to pull and headed west. Her path took her through IL, WI, MN, ND, SD, IA, and Nebraska before she was sidelined at Omaha for work on her drivers. Repairs took just over two weeks and in early October the 4449 double-headed west with Union Pacific 4-8-4 #8444. Rejoining the AFT at Ogden, 4449 pulled the train to pull it the rest of the way into Salt Lake City.
The following months saw the 4449 and her train in ID, WA, OR, NV, CA (kicking off the Bicentennial year in Santa Barbara), AZ, NM and Texas. At Austin, TX 4449 handed pulling duties over to Texas & Pacific #610, a large 2-10-4 locomotive restored by individuals in Ft. Worth specifically to pull the AFT through Texas. At Ft. Worth, the 4449 took over again for the trip to Wichita Falls and on to OK, KS, MO, AR, TN, MS, LA, GA, and Alabama.
At Birmingham, AL beginning on May 30, 1976, the 4449 received a well-deserved break while a Former Reading T-1 locomotive took over once again. After three months in Birmingham, 4449 made her first run in excursion service - August 28-29 with a special from Atlanta to Alexandria, VA for the Southern Railway. On September 29 at the Pentagon, 4449 again took over again to pull the AFT down the east coast through VA, NC, SC, GA and FL to Miami where the AFT ended her 25,833-mile journey on December 31, 1976.
On January 14-16, 1977, the 4449 pulled Amtrak's first foray into steam excursions - a short trip with a nine-car train from Miami to Birmingham. Shortly thereafter 4449 led a Amtrak Transcontinental Steam Excursion from Birmingham to Portland, OR, arriving home in spectacular fashion after nearly two years on the road!
It was time for a rest.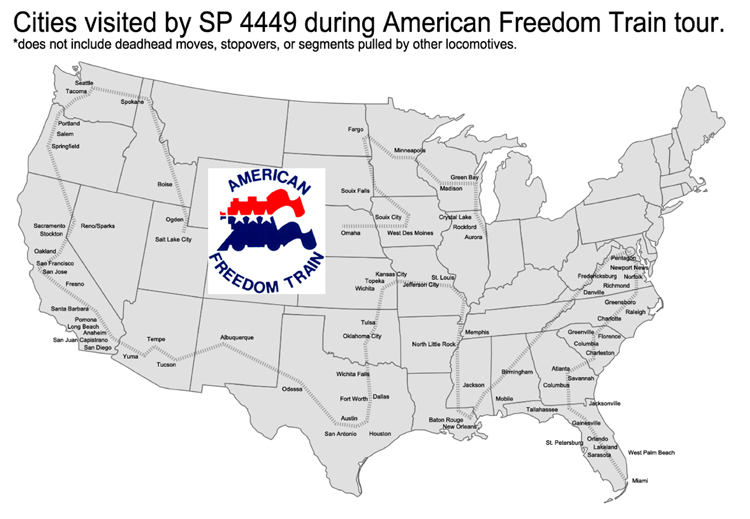 For an extensively detailed report on the tour, visit freedomtrain.org and be sure to click on the individual cities across the 1975-1977 timeline for photos and additional info on those specific stops.
Thanks to crewmember S.R. Bush for documenting the tour by sharing these photographs: