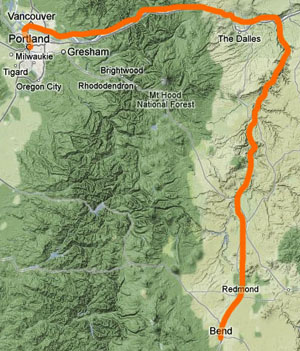 The Friends of 4449 operated a Portland-to-Bend trip as a fundraiser for 4449's overhaul in 2013.
Route: Portland, OR to Bend, OR via Columbia River Gorge and Deschutes Canyon, with a stop at Vancouver, WA depot and photo run-bys at South Junction and Willow Creek Trestle (Madras) in Oregon.
We utilized lovingly restored vintage rail cars including Visa Domes, Lounge, and coach cars, and departed at 8:30 AM from the historic Portland Union Station Saturday morning October 20. After picking up a few more passengers at Vancouver, WA depot, we then headed east into the beautiful and scenic grandeur of the Columbia River Gorge operating at track speed on the BNSF main line as we passed the Bonneville and the Dalles Dams.
Near Wishram, WA we crossed the 3972 feet long bridge over the Columbia and headed south, upriver along the Deschutes River's west side of the gorge using track owned jointly by the Union Pacific and Burlington Northen Santa Fe Railroads. After climbing up the grade towards Madras, we also stopped at South Junction for a photo run-by. At Prineville Junction the train turned on the wye and 4449 pulled the rest of the way into Bend at around 8 PM.
On Sunday morning, we returned to Portland by descending down the Deschutes Gorge, which included a couple photo run-bys along the way, and Columbia River until we returned to Portland Union Station around 7 PM.
Train Consist:
| Roster No. | Equipment Details |
| --- | --- |
| SP 4449 | Steam locomotive |
| DLMX 4219 | Auxiliary Tender |
| AMTK 51 | P42DC Diesel Locomotive (for head-end power & dynamic brakes) |
| 800288 | NP 498 "Traveller's Rest" lounge car |
| 54552 | Amtrak Horizon Coach |
| 54566 | Amtrak Horizon Coach |
| 58108 | Amtrak Cafe |
| 800631 | DLMX 5659 "Gordon Zimmerman" baggage car |
| 800124 | SLRG 511 "Scenic View" dome car |
| 800633 | SP 2981 "Overland Trail" lounge car |
| 800604 | CBQ "Silver Splendor" dome car |
| 800061 | Pennsylvania "Colonial Crafts" lounge car |
| 800392 | Santa Fe 503 "Plaza Santa Fe" dome car |
| 800190 | California Zephyr "Silver Lariat" dome car |
| 800333 | CBQ "Silver Solarium" dome car |
| | |
| SP 4449 at Portland Union Station. | Passing through NW Portland. |
| --- | --- |
| A look back on the consist. | Steaming along the Columbia River Gorge. |
| Crossing the Columbia River. | Climbing the grade up Deschutes River Canyon. |
| Climbing the grade up Deschutes River Canyon. | Climbing the grade up Deschutes River Canyon. |
| Climbing the grade up Deschutes River Canyon. | Climbing the grade up Deschutes River Canyon. |
| Deschutes River. | Chugging towards Bend. |
| Photo run-by for our passengers at South Junction. | Near Culver. |
| Near Crooked River. | Overnight stay in Bend. |
| Early morning departure. | Another photo run-by at Willow Creek Trestle near Madras. |
| Photo run-by for our passengers. | Photo run-by for our passengers. |
| Photo run-by for our passengers. | Cruisin' downgrade towards the Columbia River. |
| Amazing geology to be seen along this route! | Deschutes River. |
| Rejoining the Columbia River as viewed from on board. | Bridge of the Gods. |
| Steaming towards Portland. | The conclusion of a successful trip! |