Welcome to the official Friends of SP 4449's website. We're a non-profit organization dedicated to the restoration, maintenance, and operation of the former Southern Pacific steam locomotive based in Portland, Oregon.
What's happening on the SP 4449?
The 2019 Holiday Express was a big success. You can see a video of the 4449 pulling the Holiday Express here.
Unfortunately work on the SP 4449 and railcars by our volunteers has also come to a stop until further notice due to Covid-19. The Oregon Rail Heritage Center has reopen somewhat but due to the varying closure orders it would be wise the check the ORHF website for current hours before visiting.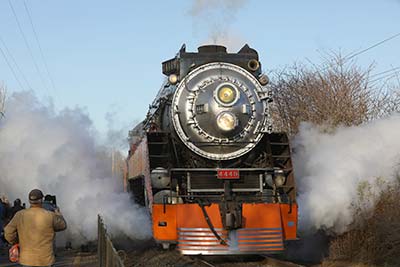 Click here to see more of what the SP 4449 has been up to recently.
When can I ride behind the SP 4449?
Unfortunately Holiday Express 2020 has been cancelled due to Covid-19 so the next opportunity to ride a train being pulled by the SP 4449 will likely be Holiday Express 2021.
Come see us!
Come see the SP 4449 at the Oregon Rail Heritage Center located at 2250 SE Water Ave, Portland, OR. For those taking transit, the MAX orange line passes right by the front gate. See MAX and Streetcar websites for more information.
Check the ORHF website for current hours. There is no charge to enter the facility, but your support at the donation box or concessions shop is much appreciated!
The Friends of SP4449 complies with applicable Federal civil rights laws and does not discriminate on the basis of race, color, national origin, age, disability, or sex. In compliance with Oregon's expanded protected classes, Friends of SP4449 does not exclude people or treat them differently because of race, color, national origin, age, disability, or sex pregnancy, gender identity, religion, limited English proficiency, marital status, or sexual orientation.
Friends of SP 4449 Inc. - P.O.Box #42486 - Portland, OR 97242